BBQ Brian's Flashback Jambalaya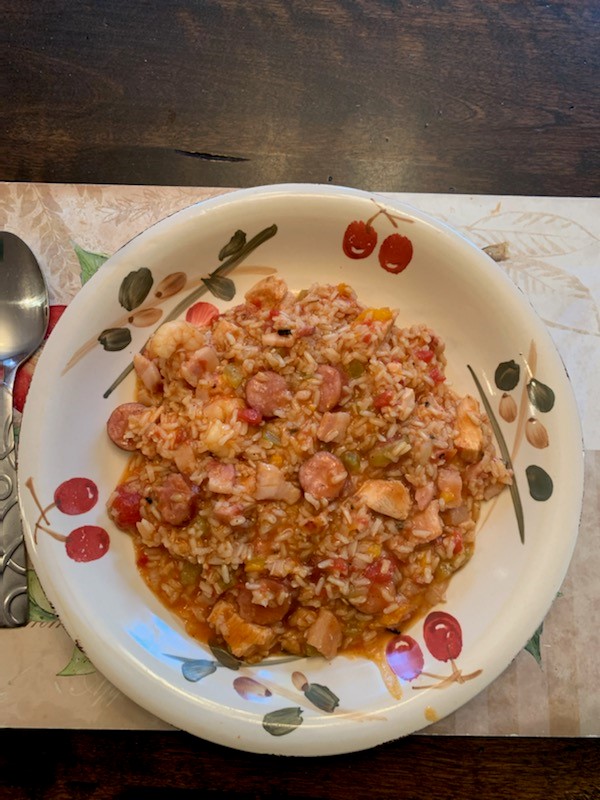 ---
INGREDIENTS: 
1 1/2 cups long grain rice
4 cups chicken stock
Proteins (pick 2 or 3):
24 medium peeled, deveined shrimp, about 1 pound (leave whole or chopped)
1/2 pound boneless, skinless chicken thighs, diced
1/2 pound Andouille sausage, sliced
1/2 pound slab bacon, cubed (or pork steak, cubed)
1/2 pound ham, cubed
Base ingredients:
1/4 cup olive oil
1 cup onions, diced
1 whole bell pepper, diced (I like red or orange)
2 sticks celery, diced
2 tablespoons chopped garlic
1 can diced tomatoes (or whole)(780-800ml)
Seasonings:
1/2 teaspoon salt
1/2 teaspoon freshly ground black pepper
3 bay leaves
1 TB Worcestershire sauce
2 TB hot sauce
---
COOKING DIRECTIONS:
Prepare the proteins…  this all depends on which meats you have chosen for your jambalaya.  If using raw chicken, bacon or (and?) sausage you can get additional flavor by searing them in your jambalaya pot before the rest of the ingredients.  Raw shrimp and cooked ham can be added at the end of the cooking time.  As an alternate, grill the chicken and sausage to get a smoky, grill flavor – wicked addition to jambalaya!
To sear the meats, add oil in a large pot preheated over medium heat and add the meat.  Careful not to crowd the pot and steam everything… you want them to brown.  After the meats have established color remove them from the pot and hold for the next steps.  Keep any of the juice that runs off – you can add that back in for more flavor in your jambalaya.
In the same pot, add the onion, celery and bell pepper.  You may need more oil and if so, just add some. Sauté until the vegetables are soft, stirring frequently.  Add the garlic and stir for a couple of minutes to get aromatic. Add the rice, tomatoes and chicken stock.  Add the spices.  Stir to mix all the flavors together.  Add the seared meat in the pot.  Continue cooking over medium heat stirring once or twice.
If using shrimp or cooked ham and once the rice is close to being done, add them to the jambalaya.  Shrimp only need a short amount of time to cook and this is the right time to add them.  Check for seasoning as well – enough salt?  Pepper?  More heat?  You can add that now too…
Once the rice is cooked and soft you can dish out the jambalaya.  Have more hot sauce ready, sliced green onions or if you need to taper it down, sour cream works as well.
ENJOY!